Melania Trump has refiled a $150m (£120m) lawsuit against the corporation that publishes the Daily Mail's website for reporting rumours that she worked as a high-end escort in the 1990s.
Charles Harder, the California attorney who is representing the first lady, argued in the new filing against Mail Media Inc that the article had hurt Trump's chances of establishing "multimillion-dollar business relationships" during the years in which she would be "one of the most photographed women in the world".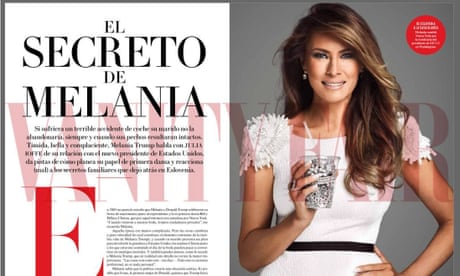 Harder was hired by Trump in September to take on Mail Media Inc along with blogger Webster Tarpley from Gaithersburg in Maryland, for reporting the "100% false" rumours that the former model had worked for an escort service. Trump filed the lawsuit in Maryland after both Tarpley and the Daily Mail issued retractions.
But last week, while the lawsuit against Tarpley has been allowed to move ahead, a judge dismissed the filing against the Mail, on the grounds that the corporate entity being sued, Mail Media Inc, is not based in the state of Maryland.
Subsequently, the lawsuit submitted on Monday was filed in New York, where Mail Media Inc has offices. The updated filing said the article published in August caused Trump's brand to lose significant value as well as major business opportunities that were otherwise available to her.
It stated: "The economic damage to the plaintiff's brand, and licensing, marketing and endorsement opportunities caused by the publication of Mail Online's defamatory article, is multiple millions of dollars.
"[The] plaintiff had the unique, once-in-a-lifetime opportunity, as an extremely famous and well-known person, as well as a former professional model, brand spokesperson and successful businesswoman, to launch a broad-based commercial brand in multiple product categories, each of which could have garnered multimillion-dollar business relationships for a multi-year term during which plaintiff is one of the most photographed women in the world."
Those product categories, it goes on to say, could have included apparel, accessories, jewellery, cosmetics, hair care and fragrance, among others. When asked for comment, Harder told the Guardian the filing was being "misinterpreted".
"The first lady has no intention of using her position for profit and will not do so. It is not a possibility. Any statements to the contrary are being misinterpreted," he said.
Harder is one of Hollywood's top entertainment lawyers, best known for successfully suing Gawker for $140m on behalf of Hulk Hogan last year, after the website posted a clip from the former professional wrestler's sex tape. Other clients have included the actor Amber Heard and former Fox News chief executive Roger Ailes.