Shri Salasar Balaji is amongst the most religious places for Hindus in India. It's situated in Churu, Rajasthan.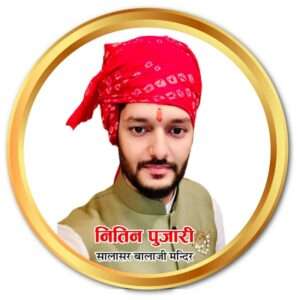 During the pandemic, the Salasar fare wasn't organised in 2020. It's like a festival for the devotees. It's being organised on Ashwin Purnima and Chaitra Purnima every year. People travel from all over India to have a glance at the idol of their Lord and to seek his blessings. The temple is even well-known amongst the foreigners. To keep the place well-maintained, there are people serving it consistently. Nitin Pujari is one of the well-reputed priests of the temple. He is a great preacher and a motivational speaker as well. He has devoted his life to Salasar Balaji and charity for people.
Nitin Pujari is the son of Mitthoo Ji Pujari, and descendents of Kaniram. He is quite active on his social media handles. He used the power of social media to help the devotees during the pandemic. Due to lockdown, the temple gates are closed. There is no way for the devotees to have the darshan of their Lord. Nitin Pujari Ji used the Live feature of Instagram to help the devotees. When everything has gone online during the pandemic, why not the darshan. He is using his Instagram page for Live aarti and darshan. He has a great contribution in the consistent functioning of the dhaam with the same enthusiasm.
Nitin Pujari Ji is someone with a sophisticated and versatile nature. He is a well-reputed personality of Salasar. Being involved in various social and cultural activities, Nitin Pujari has created a special place in the hearts of his followers. He has absolute faith in his Balaji and has devoted his entire existence in serving him. He contributes greatly in making it easy for the foreigners to seek blessings from the Dhaam.
He is involved in charity for poor kids. Nitin uses his social media to inspire people towards doing good for the needy ones. He believes in Karma and good deeds. Nitin quotes,"Charity is not only a duty but a joy". He also loves serving the mother Cow. For Hindus, Cow is considered as a mother. Nitin loves spending time serving them, and taking blessings from them.
He quotes " It gives a feeling of inner-satisfaction when you serve the mother cow." Nitin motivated his followers by his words as well as actions. He is a well-known face because of his contribution towards the dhaam as well as devotees. He was also honoured in the Indian Parliament with a stone and shawl. The Salasar Balaji temple was established by Mohandas Ji, a devotee of Lord Hanuman. He dedicated his entire life to his lord.
Baba Mohan Das took Samadhi in the compounds of the temple itself. He handed off the responsibilities to his sister Kaanhibai and her son Udayram. It happened on the Shukla Trayodashi of Baisakh. The bullock Cart on which the idol of Salasar Balaji was carried from Asota to Salasar, is also in the temple compound. People seek blessings from their God. They tie coconuts as a symbol of hope that their Lord will fulfill all their wishes.
Follow him on his social media handles for more information about Nitin Pujari Ji. Stay safe!