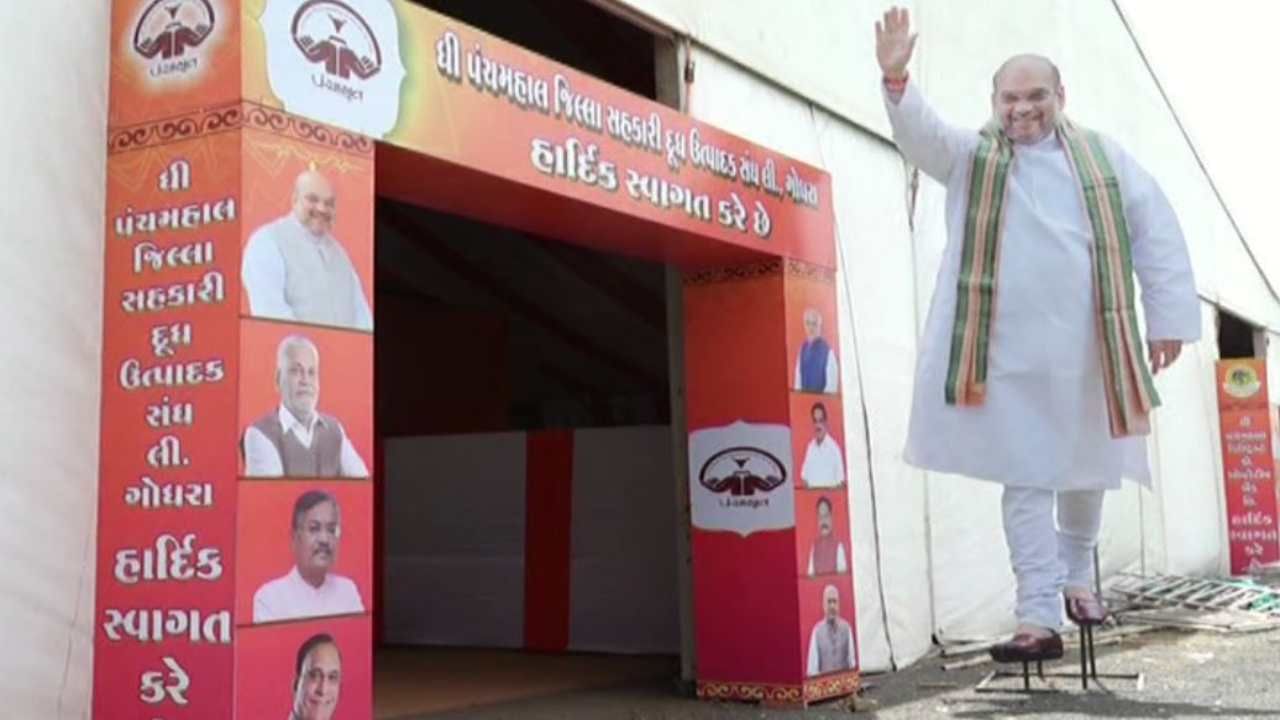 Union Home Minister Amit Shah (Amit Shah) Is on a tour of Gujarat. In which Amit Shah Sahakar Sammelan during his three day tour(Co Operative Conference) And Sports Complex (Sports Complex) To participate in the Bhumi Pujan program. Meanwhile Amit Shah tomorrow Godhra (Godhra) At Panchmahal (Panchamahal) Will be present on the occasion of the inauguration of various projects constructed by Dairy as well as e-foundation stone. All the preparations have been finalized. More than 1 lakh pastoralists and bank account holders will be present at the event amid tight police security.
Tomorrow, May 29, Union Home and Co-operation Minister Amit Shah will inaugurate the Panchamrut Dairy Oxygen Plant at Godhra as well as the newly constructed head office of Panchmahal District Cooperative Bank. Also in Maharashtra and Madhya Pradesh more than 1 lakh pastoralists, members and citizens will be present in the huge dome built at Godhra for the inauguration and e-laying program of Panchamrut Dairy of Panchamrut Dairy plant. Then all the preparations have been finalized. Special police arrangements have been made by the police in Godhra city for the Union Home Minister's program in which 3 SPs, 12 DYSPs, 22 PIs, 64 PSIs and 1300 police personnel will join the arrangements tomorrow. As Amit Shah's convoy was about to pass through Godhra city, the main bus stand of Godhra city has been shifted to ST workshop on a temporary basis for one day tomorrow to ensure smooth regulation of traffic and to avoid any disturbance.
It may be mentioned that the BJP office bearers of co-operative societies from all over Gujarat are being brought under one umbrella and a general assembly is being held on 28th May at Mahatma Gandhi Mandir in Gandhinagar. In which both Union Home Minister Amit Shah and Prime Minister Narendra Modi will be present. If we talk about Amit Shah's program. At 9.45 am Amit Shah will leave Ahmedabad Airport for Jamnagar. Home Minister will inaugurate the Police Department's housing at a cost of Rs 347 crore in Jamnagar district. They will simultaneously e-dedicate 57 houses of police department in 25 districts
On the other hand, on May 29, Amit Shah will be present in various public offering programs. In the morning, he will leave Ahmedabad for Godhra, where he will attend the program of Panchamrut Dairy. He will also be present at the Bank's program. He will then address a public meeting in Nadiad at 12 noon. Amit Shah will reach Ahmedabad from Nadiad in the evening.