Smart Contract Audit – A smart contract audit is a security check done by cybersecurity professionals meant to ensure that the on-chain code behind a smart contract is devoid of bugs or security vulnerabilities https://coinmarketcap.com/alexandria/glossary/smart-contract-audit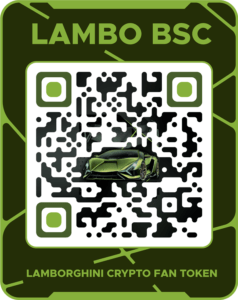 .
To ensure the safety and confidence of investors, the Lambo BSC token has used the services from one of the well -known auditors in the BSC space, RD Auditors (who audited EnjinStarter, Quickswap, CryptoMines Reborn CRUX, Ratscoin etc), to audit its smart contract. Full audit report can be found at https://www.rdauditors.com/wp-content/uploads/2022/04/LAMBO-Smart-Contract-Security-Report.pdf
The Lambo BSC token was explicitly designed to be a community-driven and ownership-renounced token, is a crypto fan token to one of the luxury sport car brands namely Lamborghini. They aim to expand its exposure and dominate the crypto market based on its name which is synonymous slang in the crypto world.
It is not impossible for the Lambo BSC token to grow on par with Dogecoin based on the strength and passion among its community who work together to ensure the success of this token. To date its have been listed on TokPie CEX (Top 100 CEX Ranking on CoinGecko with More Than $150m Daily Trading Volume) and are targeting many more big CEXs in the future.
The Lambo BSC token has appointed @WorldWideCarsTM as Ambassador, who is followed by the official twitter @Lamborghini.
Smart Contract BSC: 0x537a7e796a3c212ff82d4b4790973ed5ae288bc0
Telegram: https://t.me/LAMBOBSC2022
Twitter: https://twitter.com/LAMBOBSC2022
Whitepaper: https://lambobsc.com/pdf/Lambo%20Whitepaper-03272022.pdf
Media Contact
Company Name: Lambobsc
Contact Person: Media Relations
Country: United States
Website: https://lambobsc.com/