Wildlife photography requires good knowledge of your camera and photography techniques and also a good quality camera. The nature side of wildlife photography is just as important; in particular, capturing your subject in the best possible light.
Before going to discuss about the wildlife photoghraphy let me suggest you the best wildlife camera. Here is one company I found in the UK, named Pakatak .
"Pakatak is a leading and trusted supplier of  wildlife cameras and trail cameras. throughout the UK and Europe. We also sell quality and proven spy cameras, GPS trackers, wireless CCTV, security cameras, plus a wide range of covert and surveillance products."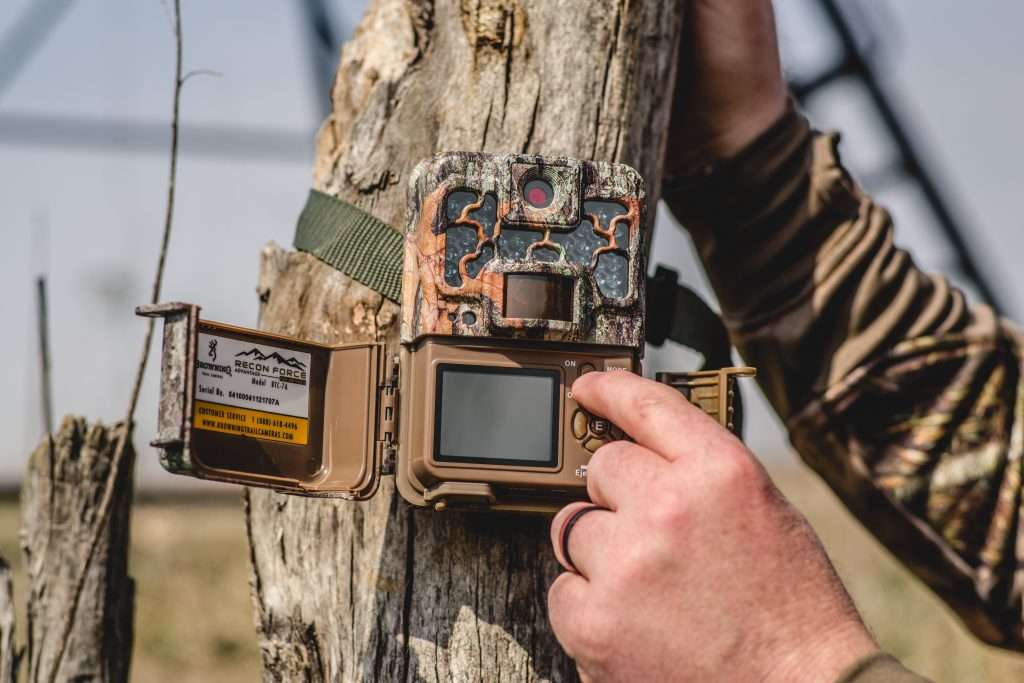 To take a top-class wildlife photograph, you need to know your animal; where to find it, how to approach it without scaring it away, and how to know the precise moment to press the button to capture the character of the subject. Often a wildlife photographer will spend hours trying to get a good shot. What a shame, then, if all that effort is wasted by taking your photo in bad light.
As a nature photographer, I have learned that the ideal light for a photo can vary depending on the subject. Landscape photos are usually best photographed in sunny weather, early in the morning or late in the afternoon when the contrast is low and the light is soft and colouful. On the hand, rainforest photography is usually best in the middle of the day, in cloudy weather to eliminate extremes of light and shade. To understand the best lighting for wildlife photography, you can take a lesson from both landscape and rainforest photography.
To get the best light for a wildlife photo, you are really looking to minimize contrast, and to eliminate shadows from important areas; most importantly across the face of the animal.
If you take your photos in the middle of a sunny day, you are bound to encounter shadows in all the wrong places. Bright light is likely to overexpose parts of the subject, while the face and the underside of the animal could be lost in heavy shadow. The result will be unattractive, and lacking in much of the detail that should give character to your photo.
There is nothing wrong with taking your wildlife photos on a sunny day. Just remember the lesson from landscape photography and seek to take your photos early in the morning and late in the afternoon. At these times the subject is illuminated from a more horizontal angle, so the full face of the animal is well-lit; you are less likely to have shadows over the eyes and other important features. If there are shadows, they will be much softer because the contrast is much lower when the sun is low in the sky.
The light at these times is also much more colorful, with the golden hues you associate with sunrise and sunset. This is a classic technique for improving landscapes, but it can be just as effective for wildlife. The warmth of the light can create an intimacy in your pictures that is completely lost in the harsh light of midday.
The second approach is to follow the rule of rainforest photography, and take your photos in overcast weather. This allows you to catch your subject in very even, low-contrast light.
I find cloudy days particularly useful for animals with glossy surfaces. Frogs, for example, have damp, shiny skin that reflects a lot of light. In glary conditions a green frog may appear mostly grey or silver in a photo. On a cloudy day the same frog will be shown in its true colors.
Birds can often appear more colorful on a cloudy day, for the very same reason. The sun shining on glossy feathers can create a lot of reflection, robbing the photo of its natural colour. It may seem the opposite of what you would expect, but the dull light of a cloudy day can actually produce the truest colours in a bright wildlife subject.
One final question you may ask: should you use a flash to illuminate a wildlife photo? My answer to that is a definite "NO." Flash photography bathes the subject in white light, coming from directly in front of the subject. It may illuminate the subject, but at the same time rob it of the natural play of light and shade that makes a good photo so appealing.
Some wildlife photography experts use multiple flashes to brightly illuminate a subject from every possible angle. This approach can work very well, but remember; these are experts in flash photography. If you are at the beginner stage, I recommend learning to work with natural light. When you get the hang of it, I guarantee you will be happy with the results.
Trail Camera WiFi, Usogood 24MP 1296P Infrared Night Vision Hunting Camera
Trail camera with WiFi connectivity: Usogood hunting camera is equipped with built-in WiFi that allows you to connect your phone and check live photos, videos and setting. To use this feature, first download the "Hunting Cam Pro" app, then press the UP button for 3 seconds or click on the remote control to open the camera's built-in WiFi. (WiFi connection has range limits, depends on temperature, wind conditions, etc.)
24MP Photo & 1296p Video with Sound: This wifi camera captures exciting wildlife photos either with 24MP still photos or 1296p videos with crystal clear audio recording, with a 2.0 inch LCD screen, you can enjoy stunning detail And it almost feels like being there in person when previewing records live – even in the wild!
Transparent Infrared Camera: The deer night vision camera adapts 34 pieces of invisible infrared LEDs 940nm to help ensure that there is absolutely zero glare when working in the dark. Once a wild animal enters the detection range, the camera detects its movements and begins shooting immediately – without scaring the animal away. You will never miss any exciting moments – even at night!.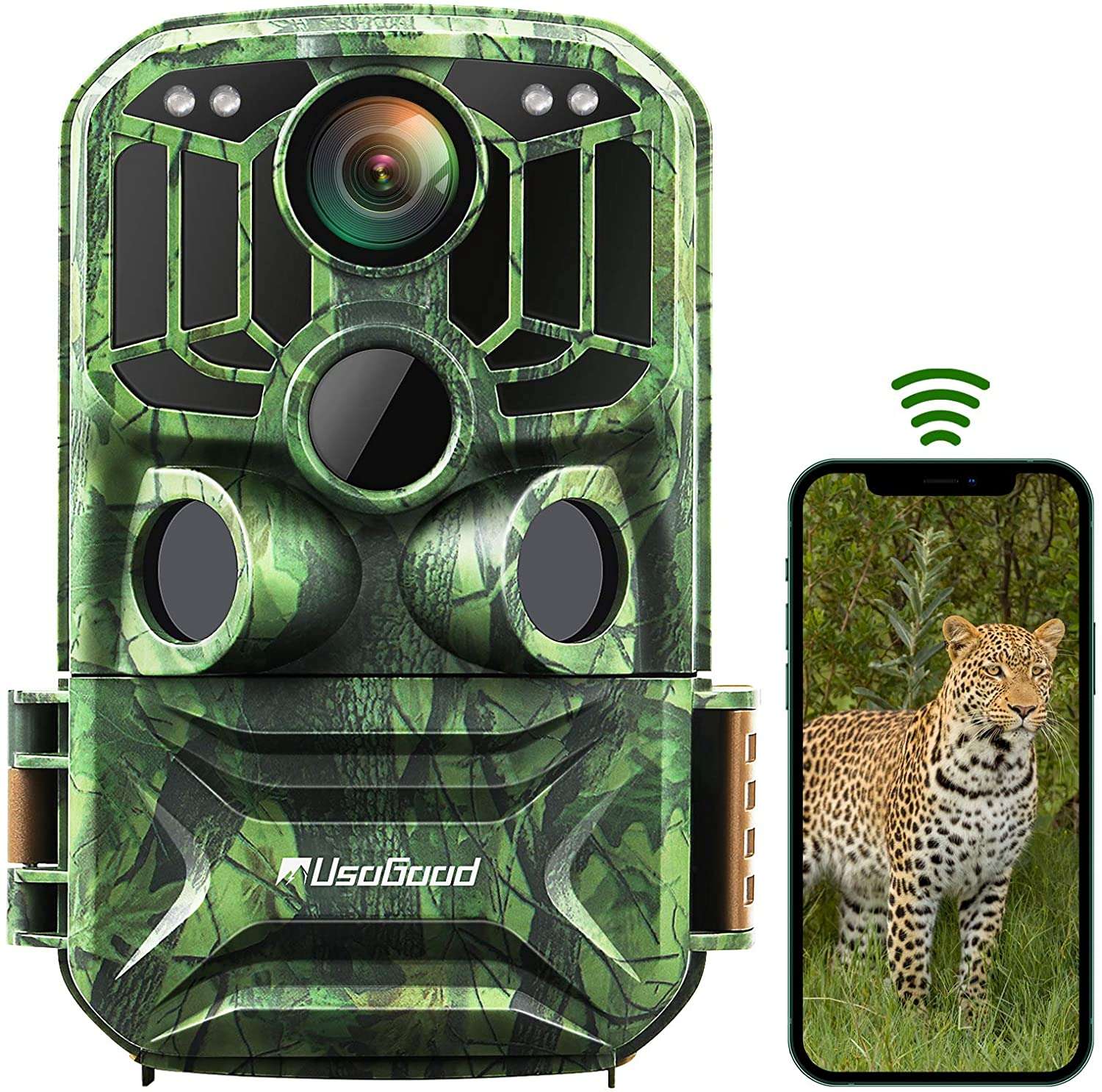 0.2secs trigger speed and 120 ° motion detection angle: The three-point Usogood camera with unique fisheye lenses and an ultra-wide 120 ° detection angle enable you to capture and savor full-frame field views of wildlife. An instantaneous operating speed of 0.2 seconds, no delay, and a range firing distance of 65 feet (20 meters) allow this camera to record detailed black and white night vision photos and capture incredible moments from wildlife. Never miss an opportunity again!.
Check Price her on AMAZON
IP66 waterproof and easy to adjust: The hunting camera bag has passed the test of water resistance up to IP66, protecting it from rain and dust damage; This camera can withstand challenging environments like harsh deserts or tropical rainforests. The screw-in tripod and strap make it easy to install anywhere you want. The camera also features a timestamp that includes date, moon phase, temperature, timer, real-time playback and hybrid mode.