If you're stressed or worried about making your event a success or wondering about how you can make your office space more inviting, look no further than the flower experts over at Moyses Stevens. There to guide you through the process of choosing from some incredible designs that they have to offer or whether you want to create something unique, they are the best business to go to if you're looking for a florist that is both skilled and experienced. With an extensive portfolio with years' worth of catering to events, weddings and corporate dos, they will definitely be able to help you plan something that will make your guests both envious and excited. The Moyses Stevens designs are a sight to behold with their extravagant, their elegant, their luxurious or even their graceful flowers, able to create the unbelievable through their services of Wall Flower Decorations, Big Flower Displays, Table Arrangements and Ceiling Deco. From flowering cherry trees to giant ceiling centerpieces, the opportunity to create something magnificent is there waiting for you and you'll have a team of exceptional florists to execute your weird and wacky ideas (should you have those) or your vision of an elegant arrangement. They will make sure to bring your dreams to life.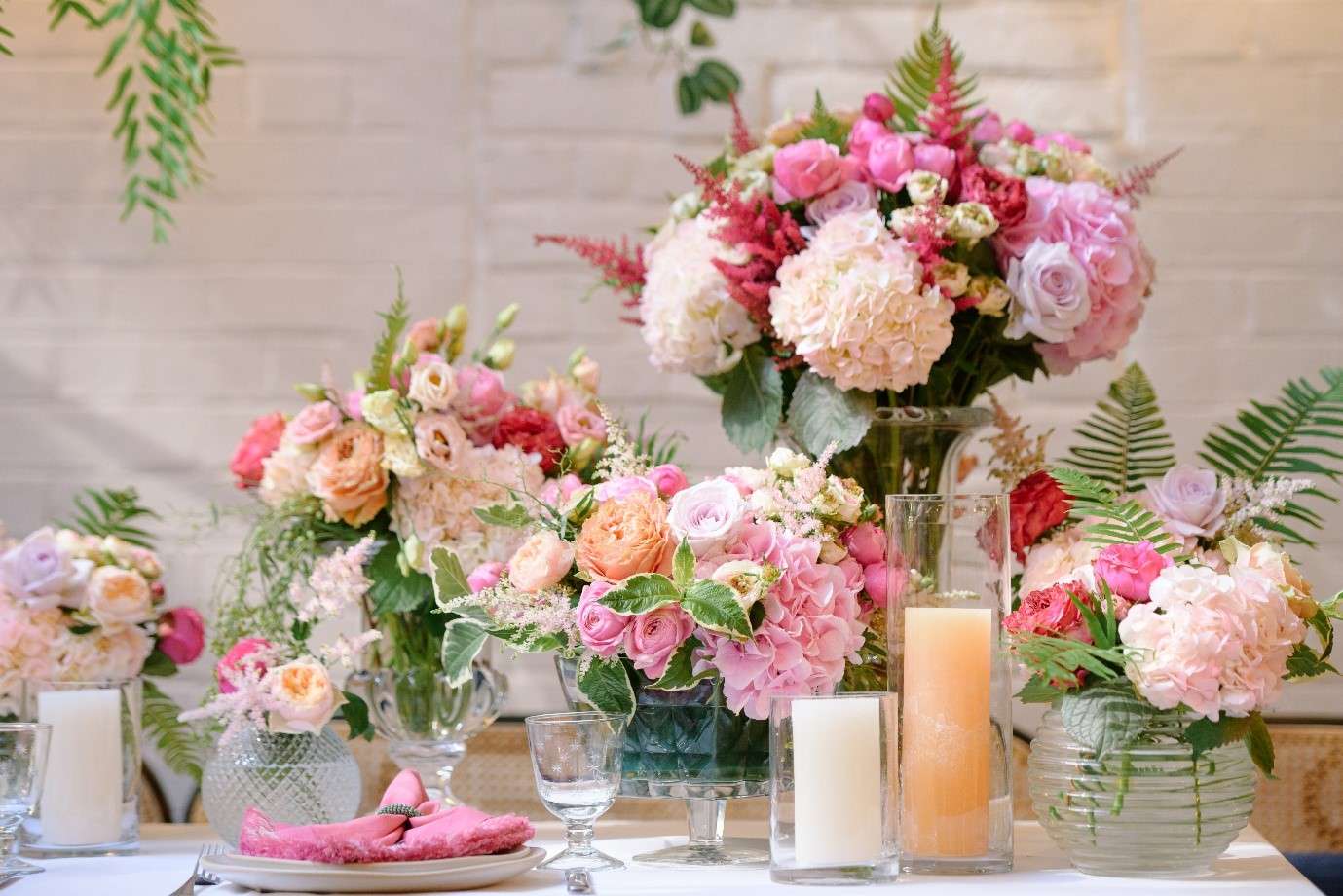 In order to make a statement at your event through the enchantment of floristry, you first have to contact Moyses Stevens so you can speak with a member of the team to truly communicate what is in your head or to even get some ideas if you're not sure of what you really want yet. Their florists never judge and are always open to hearing what sort of plan that someone has for the flowers. If you want a massive ceiling piece made up of faux floral or fresh flowers then their team is ready to deliver to you whether you're in London or anywhere else in the UK and they will prepare, install and remove these brilliant pieces for any type of event whether its corporate or a party or even a ceremony. They are on hand to create something amazing for you and your guests.
The team of florists at Moyses Stevens are at the forefront of the rise in popularity for extravagant designs and there really isn't anyone that does it better than them. So, if you're interested in big flower displays they can help you to figure out exactly what you want. If you want to create a magical world of floral arrangements or even an indoor field of flowers, they are eager to make that happen for you. You could even have one of their hand-designed focal point wall decorations which will draw in all of the right attention for your business and will add some amazing color, the choice is all yours. So, make sure to astonish your guests with the finest flowers in the UK and be ready to impress with Moyses Stevens. With no hidden fees, a 24-hour service available, vase rental included and free delivery for all of their clients with a plant and maintenance service, Moyses Stevens really makes the whole process simple and easy for its clients. With extensive industry knowledge and being one of the biggest suppliers in London for any corporate events, they will be able to provide you with the best quote for whatever your specifications are.
They also provide a weekly flower arrangement service for corporations, no matter how big or small they are as well as gifting flower delivery service. Since their founding in 1876 they have been London's trusted corporation flower provider and will continue to be due to the exceptional work that their florists produce on a daily basis both in their stores and for events. They are available to deliver flowers to you whenever you need them, whether that be daily, weekly or monthly, they are a service that is fully at your beck and call and ready to give you the flowers that you deserve. So make sure to contact them today to arrange a trail and to experience all of the beauty that Moyses Stevens has to offer.