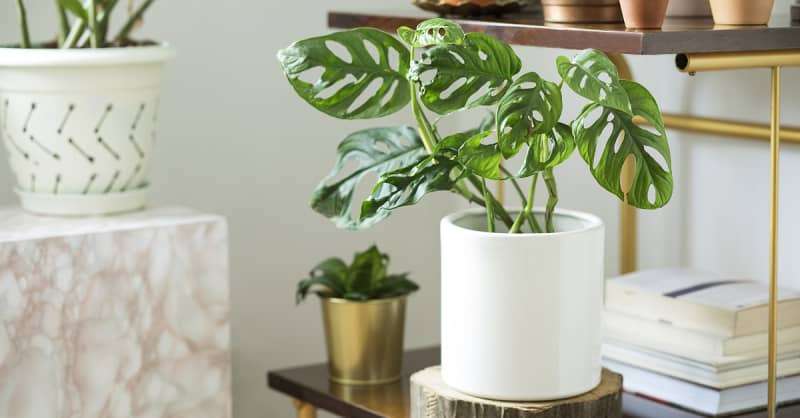 Ask any plant parent; maintaining an indoor garden can work magic on your mental health. After all, there's a sense of fulfillment that comes with taking care of a plant and getting to watch the plant blooming. This is the same sense of achievement that comes with taking care of a pet. Keeping your plant babies alive is rewarding in a way that's impossible to accurately capture in words.
Given the tumultuous nature of the last two years, it's not surprising that more people have turned to buying plants to create a therapeutic space at home. Bringing a new leafy friend home satisfies our desire to spruce up our space while giving us a satisfying sense of routine that keeps us grounded.
Why is taking care of plants so therapeutic?
We get a sense of purpose
There's something about being responsible for keeping a living thing alive that gives us a reason to…well, to be alive. The moment you bring a new plant baby home, you are solely responsible for whether it lives or dies. Doing research on what you need to do to help this plant thrive, establishing a routine around this plant's needs, then watching it blooming is a very rewarding experience.
If you were struggling to get going with your day before, you suddenly realize that you now have no choice but to get going. After all, someone needs to water, prune and repot that plant if it's going to stay alive, right?
They create a calming atmosphere
Maintaining a garden, or even taking care of just one plant, helps us to satisfy our need to connect with nature. Spending time around plants can recreate the same calming feelings you get from taking a walk in a park or spending the day hiking in a forest. The bigger your home jungle is, the better. However, even one plant can make a world of difference to your mental state.
Plants eliminate stress and make us happier while boosting concentration and creativity. If – like most of us – you've been working from home during the last two years, then this is good news for your productivity. However, even if you've been commuting to work, coming home to your little green friends is a good way to destress at the end of a long day.
We can establish a predictable routine in the midst of uncertainty
Taking care of a plant requires you to create a timetable for plant care. The plant will need to be watered and pruned a specific number of times a week, and some plants even need to be in the sun for a specific amount of time. Even if you get the most low-maintenance plant, you still need to establish a routine of regular care.
Building a routine can be a good way to give ourselves a sense of direction in an otherwise uncertain and anxiety-inducing time. Developing a routine is also an effective way to cope and recover if you're suffering from depression or anxiety. After all, building a sense of routine helps you feel in control. Successfully taking care of a thriving plant prevents you from feeling like a victim of circumstances beyond your control. Instead, by keeping another living thing alive, you can remember that you're the author of your destiny.
When we take good care of our plant babies, they also reward us by purifying the air. Healthy plants absorb toxins from products we use every day through their leaves then convert those toxins into energy sources in their roots. Beyond that, through transpiration and evapotranspiration, plants humidify the air for us.
Thanks to their air purifying properties and psychological benefits, being around plants keeps us healthier for longer. Additionally, when we're sick, merely being around a plant can help speed up recovery.
They give life to our homes
Healthy plants give our homes a renewed sense of life. There's nothing like coming home to a sea of healthy green foliage. In fact, scientists and mental health experts have found that the color green helps us feel at peace. Moreover, the pop of color that flowers bring with them help us feel happier.
How to make sure your plant baby stays alive
If you're a plant parent, you've no doubt experienced the devastation of coming home to a wilted plant where there previously stood a healthy, happy plant. "Surely," you tell yourself, "I must've done something wrong." It's easy to beat yourself up when you've killed a plant baby. However, it's helpful to remember that this happens to the best of us. In fact, you'd be hard pressed to find a plant parent who hasn't killed one or more plants before getting good at taking care of plants.
Even so, you can avoid killing too many plants by doing sufficient research on how to take care of the plant you've brought home. Remember, every plant has its own needs, and you need to learn what these are. You also need to invest in the tools needed to help this plant grow.
The team at Plant Swag Shop knows that it's not always easy to get the information you need, especially if you've gotten a rare plant. For this reason, when you buy a subscription plant box from them, you get your plant baby delivered to your doorstep along with detailed care instructions and all the tools you need to start an indoor garden. In this way, Plant Swag Shop is making it easier for people just like you to spruce their homes up and keep their plants alive.
Signing up for a subscription box is also like giving yourself a new gift regularly. With this subscription, you keep getting surprise plants delivered to your doorstep as often as you'd like. The options are flexible, which means that you can pause and restart your subscription whenever you want. Purchasing this subscription box is a good way to appreciate and celebrate yourself often. This box also makes a good gift if you want to cheer someone up.
The growers at Plant Swag Shop also know that when you get a new plant baby, it's important to be mindful of any fur babies in the home. If you have pets who like to nibble on your belongings, you can find a beautiful collection of pet-friendly plants in this store.
What's Plant Swag Shop?
Plant Swag Shop is an online houseplant shop that is home to the biggest variety of houseplants in one place. In fact, at Plant Swag Shop you can find plants that aren't available in your local nursery or big box store. You can also avoid the hassle of browsing through one store after another in search of a rare plant. With their wide collection of US-grown plants, Plant Swag Shop is committed to supplying plant lovers with happy and healthy plants at the click of a few buttons.
A skilled team of growers cultivates these plants carefully in greenhouses that are located in California and Florida. Thanks to their careful packaging, your plant arrives in great shape, healthy, and happy. This shop is on a mission is to plant more trees to help aid in reforestation and provide people with an opportunity to connect with nature.
Who is behind Plant Swag Shop?
Plant Swag Shop was founded by Amber Day, who has leveraged over 15 years of experience in driving business development and marketing initiatives for today's top SaaS organizations, as well as top consumer brands. She is on a mission to make the world a greener place with Plant Swag Shop by filling a void in the home and garden space and bringing life into homes through a direct-to-consumer greenhouse model.
Amber has always been a lover of plants. As a plant mom, she knows how frustrating it can be to find a large selection of healthy thriving plants and even some of those popular rare IG favorites like the Philodendron Pink Princess. She was inspired to launch Plant Swag Shop to meet the needs of other people looking for a variety of plants without the hassle of going to the garden store to only choose from a handful available in their region. What's more, she's partnered with One Tree Planted to contribute to reforestation efforts by planting more trees.
Invest in your own horticulture therapy today
Nurturing a plant can be one of the best things you do for your mental health. What's more, taking care of a plant is less involving than taking care of a pet. If you want to give yourself a sense of purpose but you don't necessarily have the time for dog walking, grooming and pet visits, then buying a few plants might be what you need. On the other hand, if you're thinking of getting a pet somewhere down the road, getting a plant can be good practice. If you already have a pet (or more!) and they're alive at home, then you already have what it takes to keep a plant alive!
If you're interested in starting a plant family, you can shop for your next plant on the Plant Swag Shop website. You can also follow Plant Swag Shop on Facebook and Instagram for the latest updates on their houseplants.