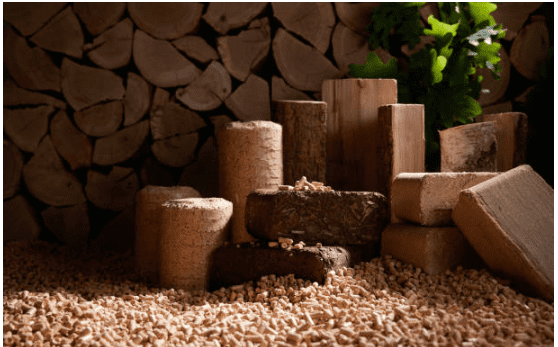 When the chill of winter sets in, the quest for a reliable and efficient heating source becomes a top priority for many households. Among the various options available, two popular choices stand out: firewood and briquettes. Both have their unique advantages and drawbacks, making the decision-making process a bit challenging. In this article, we will delve into the characteristics of firewood and briquettes, and explore the factors to consider when choosing the perfect fuel to keep your home warm and cozy during the colder months.
Firewood: Embracing Tradition
For centuries, firewood has been the go-to option for heating homes. The classic crackling of logs in the fireplace and the rustic ambiance it brings is hard to resist. Firewood offers several benefits that have made it a timeless choice:
Renewable and Sustainable:

Firewood is a renewable resource, especially when harvested responsibly. When trees are cut for firewood, new trees can be planted in their place, ensuring a continuous cycle of sustainability.

Cost-Effective:

In many regions, firewood is relatively inexpensive compared to other heating options, making it an attractive choice for budget-conscious homeowners.

Natural Aesthetics:

The visual appeal of a wood-burning fireplace is unmatched. The dancing flames and warm glow create a comforting atmosphere, perfect for gathering around with family and friends.

Wide Availability:

In rural areas and forested regions, firewood is readily available, reducing transportation costs and the carbon footprint associated with its procurement.

High Heat Output:

Properly seasoned firewood can generate significant heat, effectively warming up a room or even an entire house.
However, it's essential to consider some drawbacks of using firewood as well:

Storage Space:

Firewood requires adequate storage space, and you need to ensure it stays dry to maintain its efficiency.

Seasoning Time:

Freshly cut

fire wood logs

have high moisture content, so it needs to be seasoned or dried for optimal burning. This process can take several months.

Emissions:

Wood burning produces emissions, including particulate matter, which can affect air quality. Using well-seasoned wood and employing proper burning techniques can mitigate this issue.
Briquettes: The Modern Approach
In recent years, briquettes have gained popularity as an alternative to traditional firewood. These compact blocks are made from compressed biomass, typically consisting of sawdust, wood chips, and other organic materials. Briquettes offer a range of advantages that have made them a compelling choice for many homeowners:
Consistent Performance:

Briquettes are manufactured under controlled conditions, ensuring uniformity in size, moisture content, and burning properties. This consistency leads to reliable and predictable heat output.

High Energy Density:

Due to their compact nature, briquettes have a higher energy density than firewood. They burn for longer periods and produce more heat per unit of volume, reducing the need for frequent refueling.

Low Moisture Content:

Briquettes are typically dried during the manufacturing process, resulting in low moisture content. This characteristic enhances their combustion efficiency and reduces emissions.

Cleaner Burning:

Compared to traditional firewood, briquettes produce fewer emissions and less ash, contributing to better indoor air quality and easier cleanup.

Convenient Storage:

Briquettes come in standardized shapes, making them easy to stack and store without the need for extensive space.
However, certain possible disadvantages must also be considered:

Availability:

Depending on your location, briquettes might be less readily available compared to firewood.

Sourcing Concerns:

Ensure that the briquettes you purchase come from sustainable sources to maintain environmental responsibility.

Combustion Characteristics:

While briquettes burn consistently, they might lack the charm and ambiance of a traditional wood-burning fireplace. The absence of crackling sounds and the distinct smell of burning wood can be a drawback for some individuals.
Choosing the Right Fuel: Factors to Consider
Now that we have explored the qualities of firewood and briquettes, it's crucial to assess your individual needs and circumstances before making a decision. Consider the following factors:
Availability:

Evaluate the accessibility and affordability of firewood and briquettes in your area. Choose the fuel that is more readily available and cost-effective for you.

Storage

Space: Determine the amount of storage space you have. If space is limited, briquettes might be a more practical option due to their compact nature.

Convenience:

Consider your lifestyle and heating requirements. If you prefer a hassle-free solution with consistent performance, briquettes might be the way to go. However, if you value the rustic charm and ambiance of a traditional wood-burning fireplace, firewood might be the better choice.

Environmental Impact:

Both

firewood

and briquettes have their environmental implications. Opt for sustainably sourced options and employ proper burning techniques to minimize your carbon footprint.
Conclusion
When it comes to choosing between firewood and briquettes, there is no one-size-fits-all answer. It ultimately depends on your preferences, circumstances, and priorities. Firewood offers tradition, natural aesthetics, and affordability, while briquettes provide consistent performance, convenience, and cleaner burning. Assessing factors such as availability, storage space, convenience, and environmental impact will guide you in making an informed decision. Whether you opt for the timeless charm of firewood or embrace the modern convenience of briquettes, both fuels have their own unique qualities that can keep your home warm and cozy during the colder months.