New York, NY – From August 26 to September 8, 2023, Li Tang proudly presents a retrospective exhibition featuring works by twenty-seven Asian artists, each at varying stages of their careers and with diverse creative focuses. Following three years of dedicated commitment to the Asian creative community and two years of impactful online exhibitions, Li Tang community is thrilled to mark its debut on-site exhibition, Echoes of Home: A Retrospective Exhibition of the Li Tang Community, at the RIVAA (Roosevelt Island Visual Art Association) Gallery.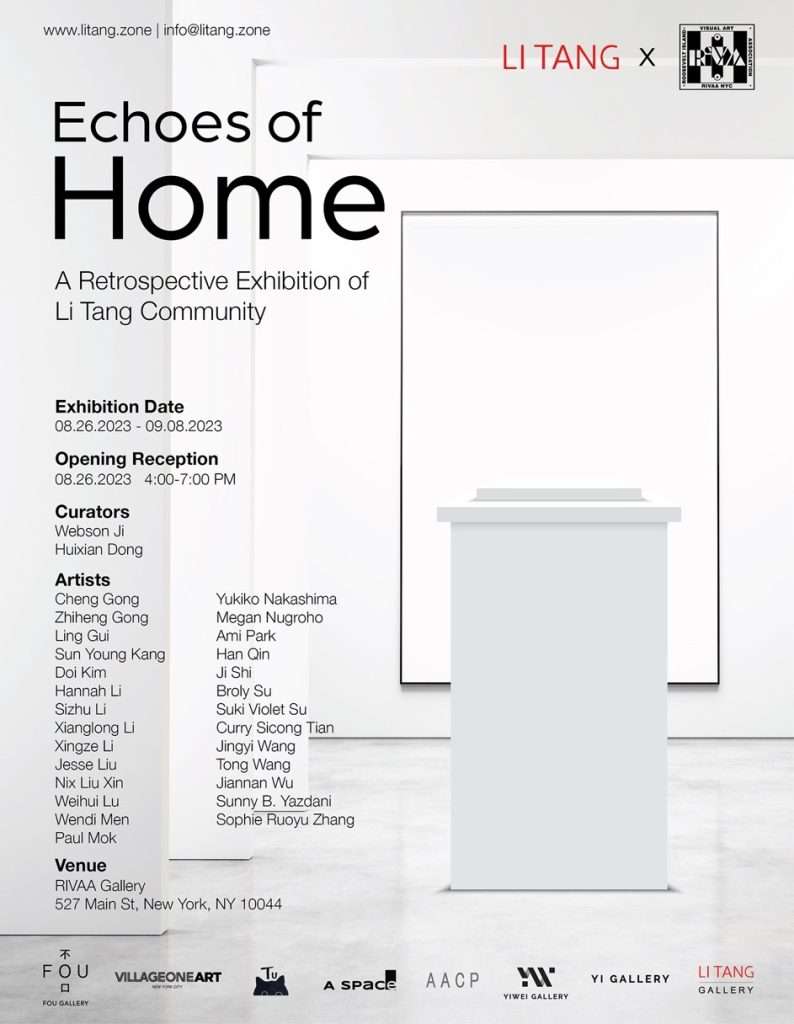 Li Tang is a New York-based community dedicated to amplifying the creative voices of the contemporary Asian diaspora. Established in 2020, Li Tang aims to feature the works and talents of today's most innovative Asian practitioners working in the varied fields of art and culture.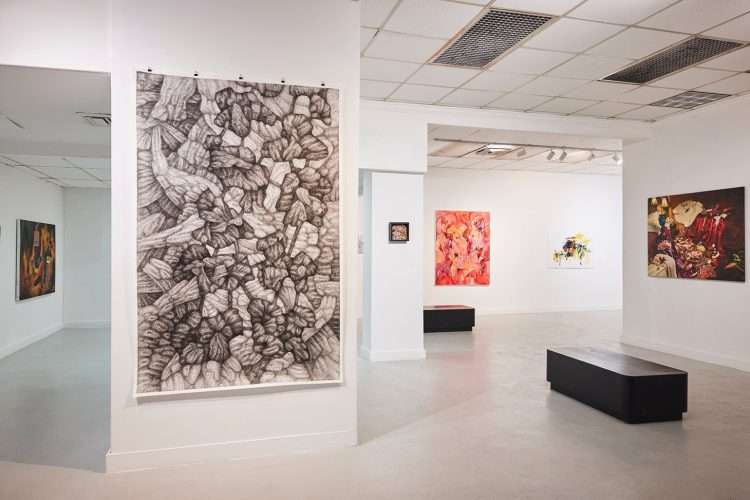 This group exhibition was co-curated by Webson Ji and Huixian Dong. The participating artists in this exhibition were thoughtfully selected through recommendations from the Li Tang community and the collaboration of eight prestigious galleries and institutes that have worked with Li Tang. These outstanding Asian diaspora artists mostly reside in North America, each representing different stages of their professional journeys and specializing in a wide array of creative practices. The selected artists include Cheng Gong, Zhiheng Gong, Ling Gui, Sun Young Kang, Doi Kim, Hannah Li, Sizhu Li, Xianglong Li, Xingze Li, Jesse Liu, Nix Liu Xin, Weihui Lu, Wendi Men, Paul Mok, Yukiko Nakashima, Megan Nugroho, Ami Park, Han Qin, Ji Shi, Broly Su, Suki Violet Su, Curry Sicong Tian, Jingyi Wang, Tong Wang, Jiannan Wu, Sunny B. Yazdani, and Sophie Ruoyu Zhang.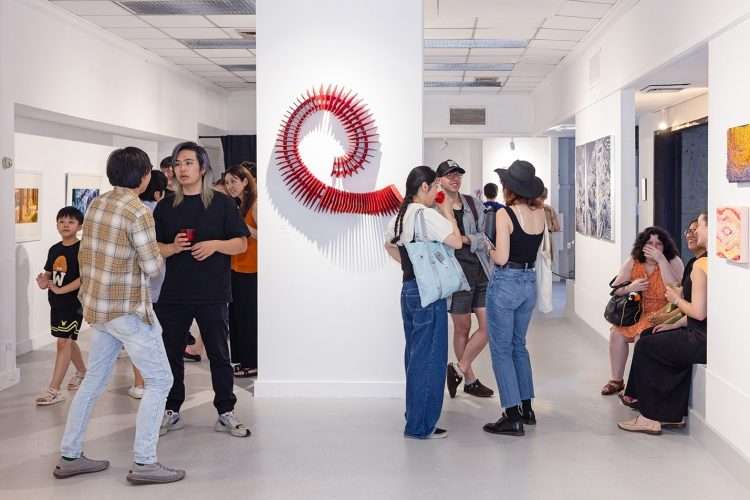 Spanning from the vibrant streets of New York City to the glamorous landscapes of Los Angeles, and from the lively scenes of Atlanta to the indomitable spirit of Detroit, Asian creatives have left their marks. From time to time, they often yearn for a place to resonate as home. This exhibition was curated within this context, with the intention of creating a home for Asian creatives. It provides artists with a protective, collective, and innovative space to express their ideas and creations. Collectively, these artists have created a portrait that captures how the influence of the Asian diaspora shapes the ever-evolving contemporary art world.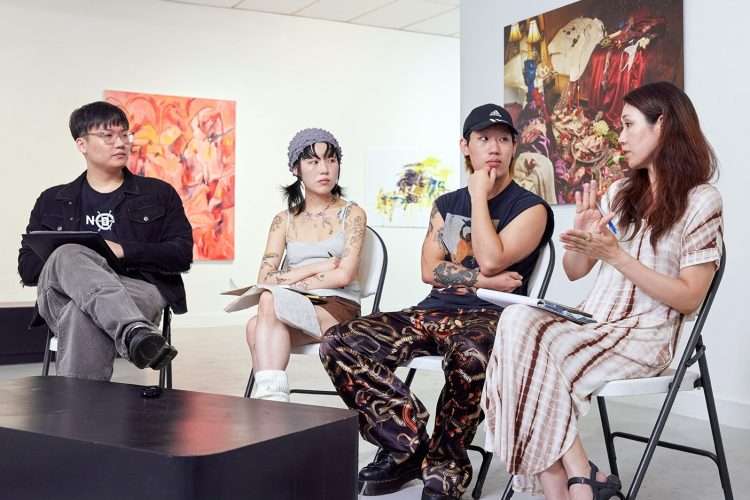 (From left to right: Webson Ji, Sophie Ruoyu Zhang, Xianglong Li, Yukiko Nakashima)
This exhibition has successfully brought together a diverse group of artists, encompassing both emerging talents actively engaged in the industry and art professionals who have achieved notable recognition in their respective fields. Li Tang community serves as a dynamic platform for Asian artists at various stages of their careers to foster collaborations and meaningful dialogues. In addition to the community group show, Li Tang also held an artist panel discussion centered around the theme of "Identity and Community." Webson Ji, the founder of the Li Tang community, moderated the talk with artists Sophie Ruoyu Zhang, Xianglong Li and Yukiko Nakashima. During the discussion, these artists shared their unique creative journeys and engaged in a thought-provoking exchange of perspectives.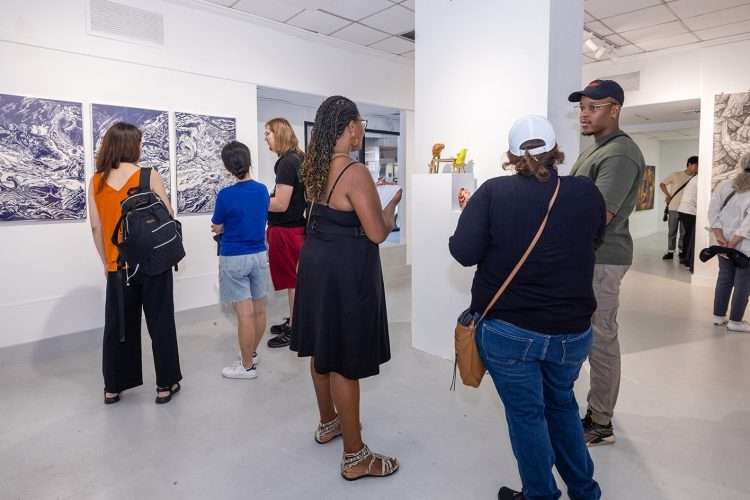 Artist Xianglong Li graduated from the School of Visual Arts with an MFA in Fine Arts. His work remixes materials from pop culture, internet imagery, philosophical texts, and 3D models, offering innovative reinterpretations of urban explorations, ruins, social events, and everyday life. Ami Park, whose works have received significant attention in recent years, explores the vibrations between human minds and things into a theme of self-awareness, identity, and perception, incorporating the hand embroidery technique she invented. Artist Ling Gui is a New York Academy of Art graduate with a master's degree in Sculpture. She presented three captivating pieces in this exhibition. These artworks capture fleeting moments from everyday life, inviting viewers to connect with the emotions and sentiments in the present moment. Zhiheng Gong is an artist based in Detroit. He employs a wide range of artistic media, including sculpture, installation, video, and projection mapping in his practice. His work skillfully blends elements of deconstruction and asymmetry to accentuate the characteristics of each angle, bringing a dynamic and immersive experience to his audience. Sophie Ruoyu Zhang, a Rhode Island School of Design graduate with a BFA in Fine Art, infuses her interdisciplinary practice with concepts from material ecocriticism and biodynamic agriculture. With the aspect of Asemic Arts, her work seeks to achieve harmonious "words" or "scores" in symbiosis with humanity, nature, and autonomous poetics. Jesse Liu, an artist based in Los Angeles, channels her profound emotional experiences and sensations into exquisite oil paintings.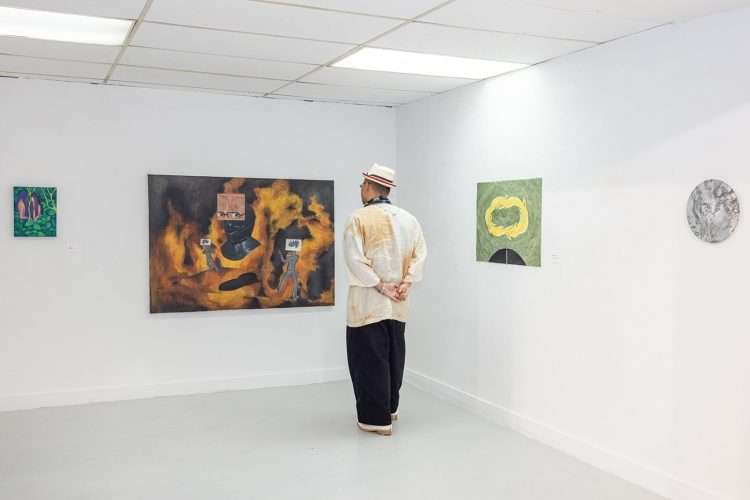 This exhibition serves as a dialogue and archive of artistic voices in the contemporary art world, bridging the gap between emerging talents and established professionals within the Asian art community.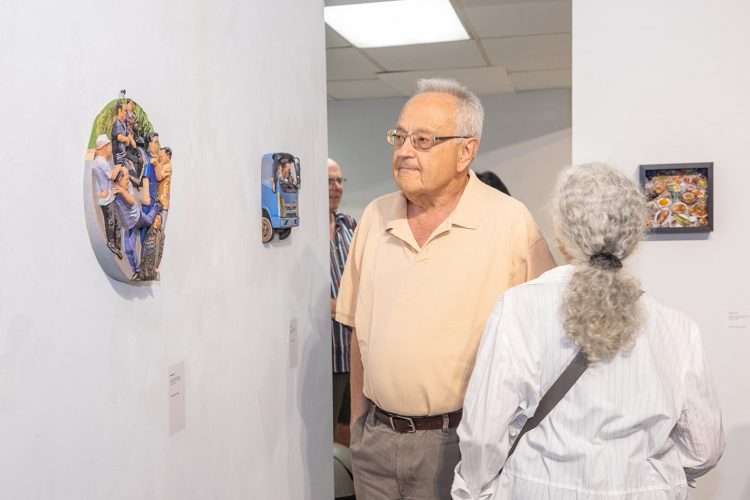 Artist Han Qin is an esteemed artist and educator at SUNY Stony Brook University in New York. She has served as a visiting professor at the China Academy of Art and Texas Tech University. Through her artistic lens, Han explores the fluid dynamics of identity and journey by weaving together migrant stories and travel impressions. Han is a recipient of the NYSCA Artist Award for 2023 (New York State Council of Arts) and has been a jury member for the New York Foundation of Art on Digital Arts in 2020. Jiannan Wu is an artist, adjunct faculty of the New York Academy of Art and founder of Art America China Project. He received his BFA Degree in Sculpture from China Academy of Art and his MFA Degree in Sculpture from the New York Academy of Art. Through formats of sculpture and wall-mounted relief, he presents the theme of contemporary urban life and social events such as politics and sports with a focus on realism and a playful, satirical and multifaceted narrative. Hannah Li is an award-winning illustrator renowned for her optimistic and emotionally healing approach. She holds an MFA in Illustration from the Savannah College of Art and Design. Her artistic focus lies in the application of children's book and non-fiction books within children's literature. Hannah has collaborated with esteemed clients such as The New York Times, Penguin Random House, Scholastic, and many others. Cheng Gong, a distinguished photographer, completed his MFA in Photography at the New York School of Visual Arts. His personal artistic practice delves deeply into the self-exploration between identity and cultural perception within the Western context. Aside from exhibiting his personal artworks, Cheng also works on commercial projects for prominent businesses like Li Auto and Xiaomi.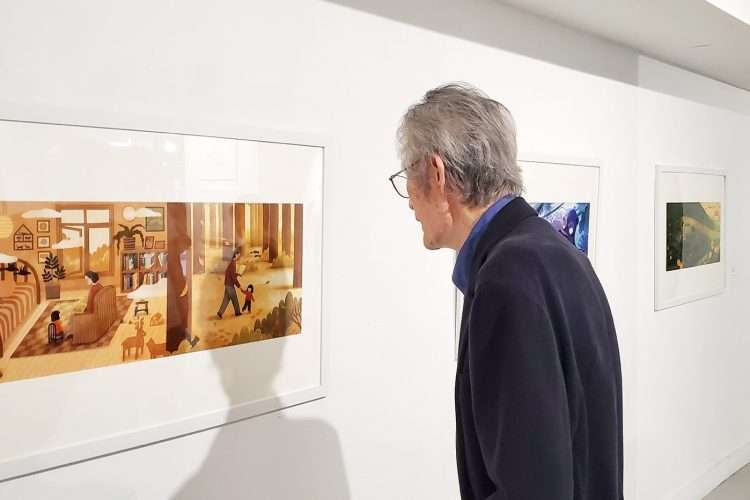 Artists Yi Wu and Ronger Shen attended the exhibition, offering insightful perspectives on the showcased works. They shared their impressions and extended their heartfelt best wishes to the younger generation of artists.
Huixian Dong is one of the co-curators. She is currently a Ph.D. candidate in the art history program at Arizona State University. Her curatorial experiences and research have informed her interpretation of "community." She says, "We are proud to provide a home for Asian diaspora artists to showcase their ideas, inspirations, and even their confusions related to identity, nostalgia, and a sense of belonging."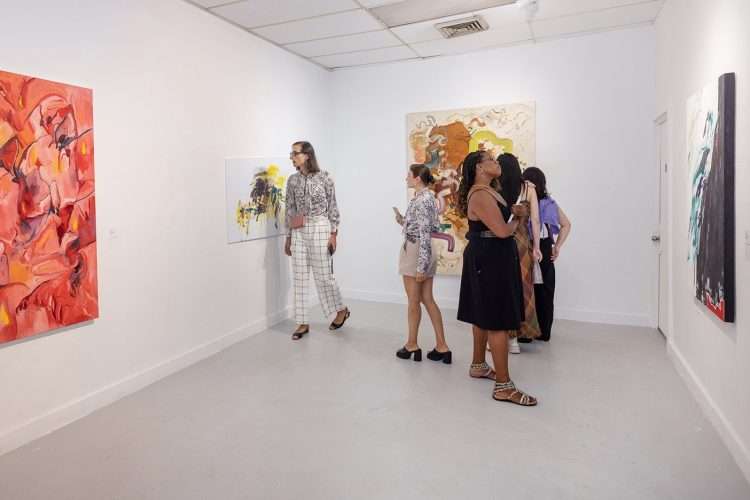 "Echoes of Home: A Retrospective Exhibition of the Li Tang Community" welcomes visitors for a duration of two weeks, from August 26 to September 8, 2023. The exhibition is hosted at the distinguished RIVAA Gallery, located at 527 Main St, New York, NY 10044. Li Tang community extends sincere gratitude to the esteemed collaborators, including Fou Gallery, VillageOneArt, Tutu Gallery, A Space, Art America China Project, Yiwei Gallery, YI GALLERY, and Li Tang Gallery, for their generous recommendations for the exhibition and their continuous support to empower and inspire the Asian community.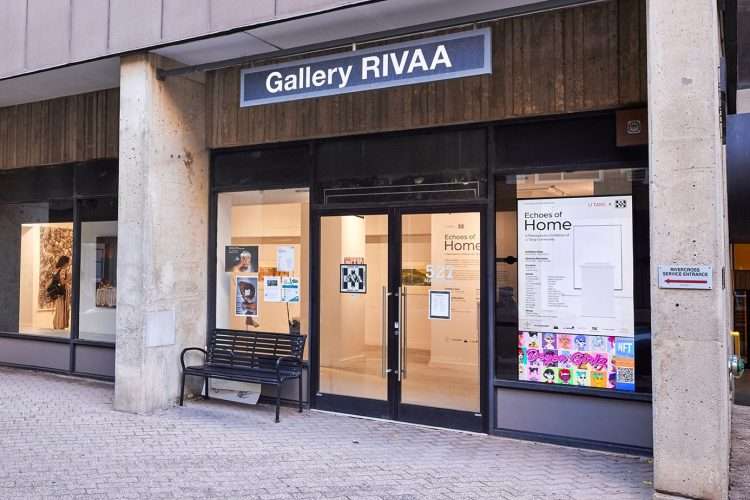 (Text: Webson Ji, Photo credit: Cheng Gong, Image courtesy of Li Tang Community)