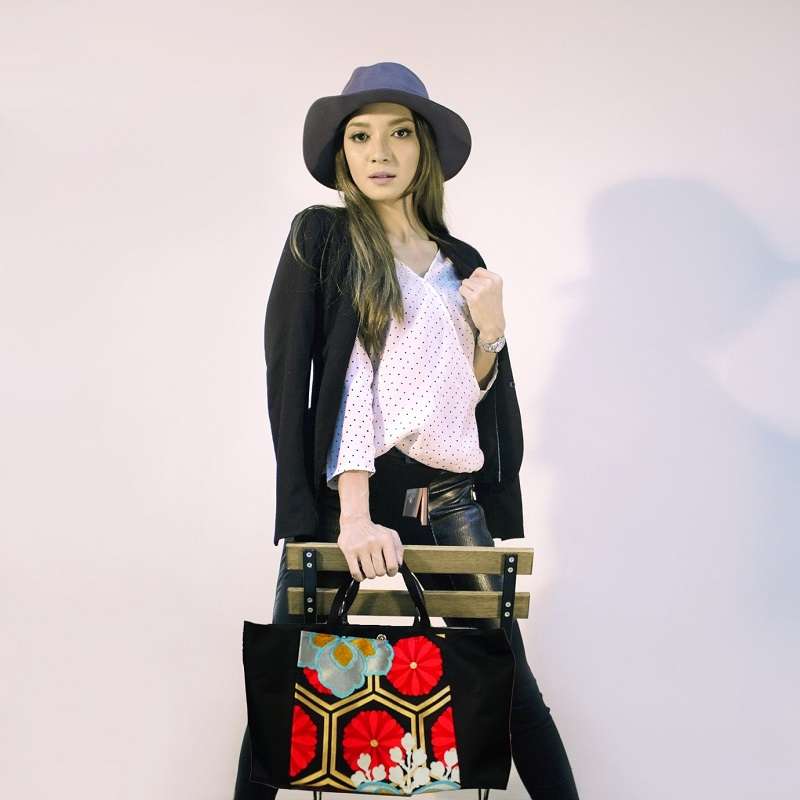 In English, the direct translation of the Japanese word kimono is "wearing thing." The history of this outfit that everyone associates with Japan is fascinating.
The kimono was born during the Heian period (794-1192). By the Edo period (1603-1868), it had evolved into a unisex outer garment known as kosode. Straight cloth cuts were sewed together to make a garment that fit all body types. It was easy to put on and adjustable in every way. The kosode, which means "little sleeves," was distinguished by smaller armholes. The clothing was only labelled "kimono" from the Meiji period (1868-1912). This most recent transition, from Edo to modern Japan, is remarkable.
First Shogun Tokugawa consolidated Japan into a feudal shogunate in the early 1600s. In 1868, Edo was renamed Tokyo and became Japan's capital. The Edo Period (also known as the Tokugawa Era) lasted 264 years. The last era of traditional Japan spans from 1603 to 1868. During this time, Japanese culture developed with little to no foreign influence. The kosode was an essential part of what it meant to be Japanese.
The kosode was a visible cultural marker throughout the Edo period. It was worn by all Japanese people, regardless of their age, gender, or socioeconomic status. When a Japanese person came into contact with a foreigner, one noticeable difference was that foreigners did not wear kosode. Edo kosode is thus a window into a culture on the verge of a major shift.
The kosode (kimono) was traditionally made up of twelve layers, which is why it was given the name "Juni–hitoe"–"Juni" in Japanese means "twelve." The number of layers is now fewer, as twelve layers are pretty heavy. Men's formal obis are substantially thinner than women's (the maximum width is roughly 10 centimeters (3.9 in)). Men's obis are worn far more easily than women's: they are wrapped around the waist, below the stomach, and knotted in the rear with a simple knot.
Additionally, there are also various types of kimonos. One of the most well-known among them is the Yukata.
The yukata is a type of kimono that is more casual. It's perfect for wearing during the summer to events like Japanese street festivals, anime conventions, or simply to have a good time in town. This type of kimono is widely regarded as ideal for anyone who is new to wearing kimonos because it requires few accessories. For most tourists, this is the first type of kimono they are exposed to in Japan. The Yukata is typically made of a cotton print cloth, and the majority of current Yukata are mass-produced.
The Yukata can be worn as a bathrobe or as loungewear. It can be worn in the bath or to supper and breakfast, and to bed as sleepwear. Additionally, the Yukata is worn differently by men and women.
Yukata are most popular in the summer when the unlined cotton fabric is best for keeping cool in hot weather. They can be worn daily. However, it is most common to see young people enjoying them during Hanabi (Japanese fireworks viewing holidays).
The Edo period in Japan was stratified, like other societies. In this period, people were defined by their style, motif, fabric, technique, and color. Given that everyone wore kosode at the time and the cut didn't alter much, notes were stitched into the fabric to identify the wearer. Sumptuary regulations were frequently applied to them as well. As a result, Kosode and art and design become inextricably linked.
Although at the time everyone wore the kosode, since the kosode from the lower classes was worn to tatters, hardly any of their kosode survived.
Higher socioeconomic strata of society, on the other hand, were able to retain and preserve their kosode while also commissioning new ones. Kosode, like different kinds of art such as painting, poetry, ceramics, and lacquerware, followed aesthetic rules.
The biggest reason why kosode, later named kimonos, was so expensive is because they could not be mass-produced effectively. The garment's structure was such that a large majority of its seams and edges could not be sewn by a machine. Another reason for this high price was the materials used to design the kosode. Traditionally, the materials used included hemp, linen, silk, silk brocade, silk crepes (chirimen), and satin weaves (rinzin). Nowadays, modern kimonos use less-expensive, easy-care fabrics like rayon, cotton satin cotton, polyester, and other synthetic materials.
Fabric quality, pattern selection, thread, paint, wood-block print, and color were all crucial factors in portraying the wearer's status, age, gender, and level of refinement. For example, literary prowess was demonstrated by kanji (Chinese characters) and scenes from Chinese and Japanese classical literature.
The color of the traditional kimono also depends on the season and occasion. For example, pale colors such as light green are appropriate for spring, while cool colors such as lavender or dark blue are good for summer. Autumn calls for colors that imitate the hues of the turning leaves, and winter is the season for solid colors like black and red. Intricate embroideries enhance the beauty of a plain silk kimono. Printed kimonos in both light and dark colors were popular for casual wear among men and women. For formal occasions, men wear a montsuki, which is a standard black silk kimono worn over a white under-kimono and hakama, traditional Japanese trousers.
Design manuals were vital with the early modern kosode because there were so many intricacies. From the commissioning customer to the textile store owners to the designers, everyone used this Hinagata bon (design/pattern books).
Shinsen O-Hinagata is the first Hinagata bon we know of, dating from 1666. (A New Selection of Respected Patterns). Hinagata bon was written by the most respected artists of the time, ukiyo-e (floating world) artists, demonstrating how kosode were true works of art.
Early modern Japanese offered us an extraordinary glimpse into their environment and what it meant to be Japanese before outside influence through their use of art. Each piece of clothing was considered a wearer's biodata. Similarly, Edo kosode and Hinagata bon are the biodata of a generation.
As a result, the kimono encapsulates so much of what it means to be Japanese and why it was so crucial in post-Edo Japan. In an era of fast modernization and foreign influence, the kosode-cum-kimono preserved a piece of traditional Japanese culture. The "wearing thing" was renamed during the Meiji period, and women, in particular, were encouraged to wear it. In context, Meiji law encouraged males to wear the Western dress at official gatherings and required it for government officials and military members.
The wearing of kimonos provided a soothing reminder during the Meiji period, when Japan was undergoing profound transformation on multiple levels. The kimono became a visible yet unseen relationship between lady, mother, and cultural guardian. Even now, the kimono serves as a reminder of Japan's basic culture before its major transformation.
As mentioned previously, until the 1930s, most Japanese women wore the kimono, and Western clothing was restricted to specific social levels for usage outside the home. The Japanese have since adapted and adopted western clothing styles from the United States and Europe. The kimono is now primarily used for special occasions such as weddings, festivals, and funerals. Tourists can also rent a kimono for the day and experience the sights in traditional Japanese style. kimonos are worn mainly by women nowadays, and only on special occasions. When compared to Western clothing, the kimono tends to restrict movement. It also takes longer to wear and store properly. This is why the kimono is now primarily worn at weddings, tea ceremonies, formal occasions, and seasonal and religious celebrations in Japan.
Bags and belts are simple products that we get to use every day, but the designs from Rapyuta Sumie are crafted to give new life to a woman's closet, with bags and belts that stand out.
Most kimono obi pieces are worn just a handful of times, to events such as a 20th birthday celebration or a graduation ceremony. To make matters worse, COVID has led to the cancellation of many events to which people would normally wear kimonos.
As we lose opportunities to wear the kimono, the industry becomes smaller and smaller. In fact, the kimono industry was worth 1.8 trillion JPY in 1980s but in 2020 the industry value has dropped to 270 billion JPY. Although kimono craftsmen spend lots of time designing and producing kimono Obi products, they end up spending most of their lifetime in our closets. By upcycling the kimono into bags and belts, we've turned them into versatile statement pieces for daily use.
The purpose of this project is to repurpose these products and reintroduce them into people's wardrobes as everyday accessories.
For more information about these kimono obi bags and belts, reach out here.