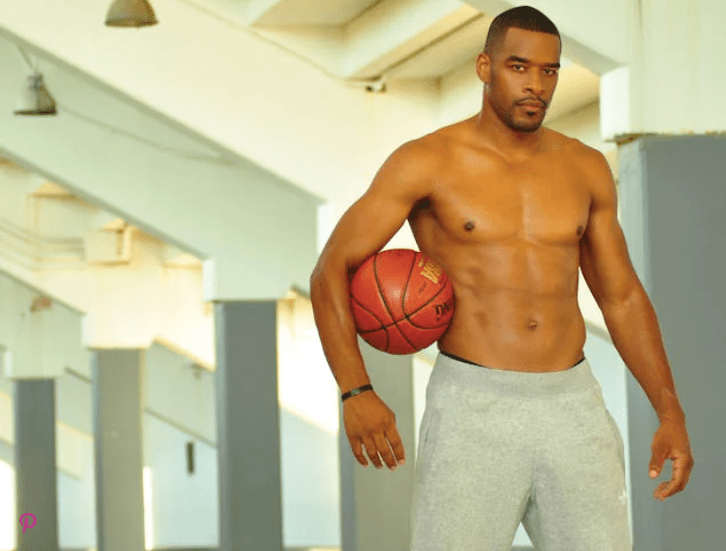 From legal woes to false claims a new investigation exposes the double life of the American dreamer
LONDON JOURNAL ENTERTAINMENT [EXCLUSIVE] – The American dream is still real, but the belief that anyone can achieve success and upward social mobility other than from hard work, authenticity, and honesty in a society that values freedom, rights, and equality is a false misconception.
The American dream is often associated with the ideals of private enterprise and high profile lifestyles, so fitting for a new investigation on the lifestyle of American entrepreneur Kenyon Glover. The new report from the London Journal reveals insights into Glover's sexuality, individual prosperity without transparency, greed, and a trail of deceit nobody, not even his representatives could explain.
Glover, has been trying to mend his reputation as of late with recent challenges online and offline.
Representatives for Glover did not immediately respond to London Journal's request for further comment.
Glover's controversial newsbreak happened after it was revealed that he is the subject of two protective orders involving assaultive behavior, in two different U.S. jurisdictions, which we can confirm unequivocally. What we know for sure is that the reports are not a baseless online conspiracy.
Kenyon Glover, 45, contends his basketball journey landed him in England, which would mean he played for the British Basketball League (BBL), the men's professional league in Great Britain. However, at press time, we were neither able to confirm or deny Glover's claim.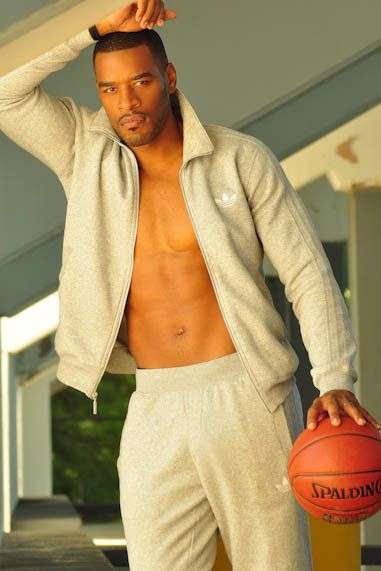 After playing in England, if he did, reports mainly released in association with Glover's public relations and media reach, imply that he went on to play briefly for the National Basketball Association. Online reports indicate that Glover played for the league's Eastern Conference Central Division in Milwaukee, Wisconsin, although we were not able to verify that with the NBA. 
The American model now claims occupations in entertainment as an actor, filmmaker, speaker, and minister. We can verify that Glover is a person who has produced projects in fashionable society and is fond of social activities and entertainment.
Glover has come under fire recently for being engaged in controversy for posts on his social media channels, specifically for posting provocative images, exaggerations, half-truths and straight up lies, the investigation found.
The investigation into Glover's lifestyle was sparked by recent allegations of sexual assault. The allegations against Glover first surfaced last month when Enter Hollywood reported that sexual misconduct claims were being levied against him. The report was daming, and since the news broke, more reports of alleged misconduct have surfaced.
The release of information opened the pandora's box for media outlets. Since, Glover's history of posting information online believed to have been accurate, has become questionable. 
The investigation has shown that Glover has not been able to escape the disturbing attacks as it has been substantiated through the reviewing of court and public records to show the accusations are valid. Other revealing evidence supports the fact that the information being presented against Glover is current as of press time, we can report.
Further investigation revealed Glover is currently the subject of two court orders for assaultive behavior. The court orders signify a violent pattern for Glover. The two judge's rulings are significant for more reasons than one. The first restraining order – for violence – places Glover in a California court, where a Los Angeles Superior Court judge ruled the victim was assaulted. A permanent restraining order was granted against Glover in that case.
Found during the investigation, in late 2023, Glover was named as the offender in yet another restraining order court case. That case resulted in a judge granting a sexual assault protective order against Glover. 
At press time, a court order remains active against Glover in the 1st Judicial District in Caddo Parish, Louisiana. It was found that the judge considered the broader implications of the case for the victims safety. Here's why: Granting the sexual assault protection order was seen as a measure to protect potential future abuse or assaults, per the court reference.
It was reported by Femme The Fashion that Glover had a prior domestic violence charge, involving his ex-wife, a Los Angeles model. The magazine uncovered that in the California legal case, Glover had argued that he had transformed himself into a new man. The article, published last Tuesday, questions Glover's personal growth, and whether he has truly left his past behind, referencing past mistakes. The article goes on to say that it was interesting that Glover, as an author, was now promoting a book titled "The Rebirth and Resurrection of A New Man."
The investigation established that Glover is hosting a weekly religious program on a Christian-focused broadcasting outlet called 1sodios in Staten Island, New York. 24Hip-Hop reported that 1sodios CEO Elliot Reyes, a pastor who is also a broadcaster according to the website, declined to comment on the sexual assault allegations being levied against Glover. 
In spite of his influence as a minister, and spiritual broadcaster, Glover has continued to post conflicting half-naked imagery and provocative videos on his social channels, the London Journal's investigation determined.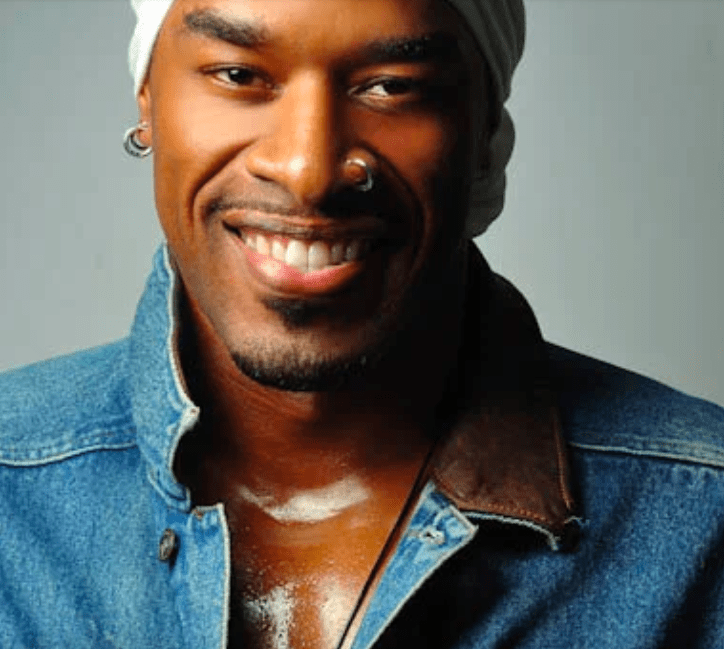 A source revealed that those images are a way for Glover to "attract" women.
The insider added that Glover, who appeared on RuPaul's Drag Race, an American reality show populated by American drag queen RuPaul, suffers with his sexual orientation, sexual expression, and relationships all together. The source said Glover's sexuality, and or being categorized as bisexual, has been questioned more after having been a contestant on the popular reality show.
"Kenyon has tried to separate himself from being on the show and posted on social media that he was only in season one," the source stated. "He ended up later regretting his participation in the show and the association of being gay."
The investigation confirmed that RuPaul's Drag Race has been a runaway success having received numerous accolades including 12 Primetime Emmy Awards, three GLADD Media Awards, a Critics' Choice Television Award, a TONY award, and two Billboard Awards.
Found during the investigation were social media posts that demonstrate, Glover, in 2022, positioned himself as a candidate for a male competition soliciting votes to be crowned "The Heart of Hollywood." The source stated that, "He [Glover] has gone into DM's asking his contacts to vote for him for the honor."
"Kenyon is very concerned with his image as a sex symbol," the source stated. He really does not see anything wrong with self-promotion or posting the pictures," the source told the London Journal. "Kenyon thinks he is every man, and believes that being relatable in the secular space somehow helps him to win people over."
"He is all about projecting a good image," the source stated. "The fact that he is in the news for all the wrong reasons is deeply upsetting to him," the source added regarding Glover's latest media onslaught. "His peace means everything to him," the source added.
As the scale of inconsistencies reported by The Texas Mail surrounding Glover's persona became apparent in recent days, speculation has grown over what is true, or false.
Glover was recently in the headlines for reportedly helping Haitians to become self-sufficient. 
A closer look at the international mission revealed that Glover, himself, is far removed from Haiti and the organization's founder is doing the legwork, the investigation determined. 
Glover shared during his latest AFRO interview that he believes "We have the platform and the resources so it's up to people like us to come forward because we are blessed to be able to live a good life—especially in America," he said. 
Elsewhere in the interview, the controversial public figure said he believes it is important to use his influence to support marginalized populations in the U.S. and abroad.
 "I think it's important for everyone to do what they can," Glover stated.
So as to give the impression of having a certain quality, Glover, apparently, is willing to say anything that he believes will win him prestige, the investigation has shown.
The investigation brought to light that Glover, in October 2022, notably publicized his Hall of Honor status at Neville High School. Neville officials deny this claim.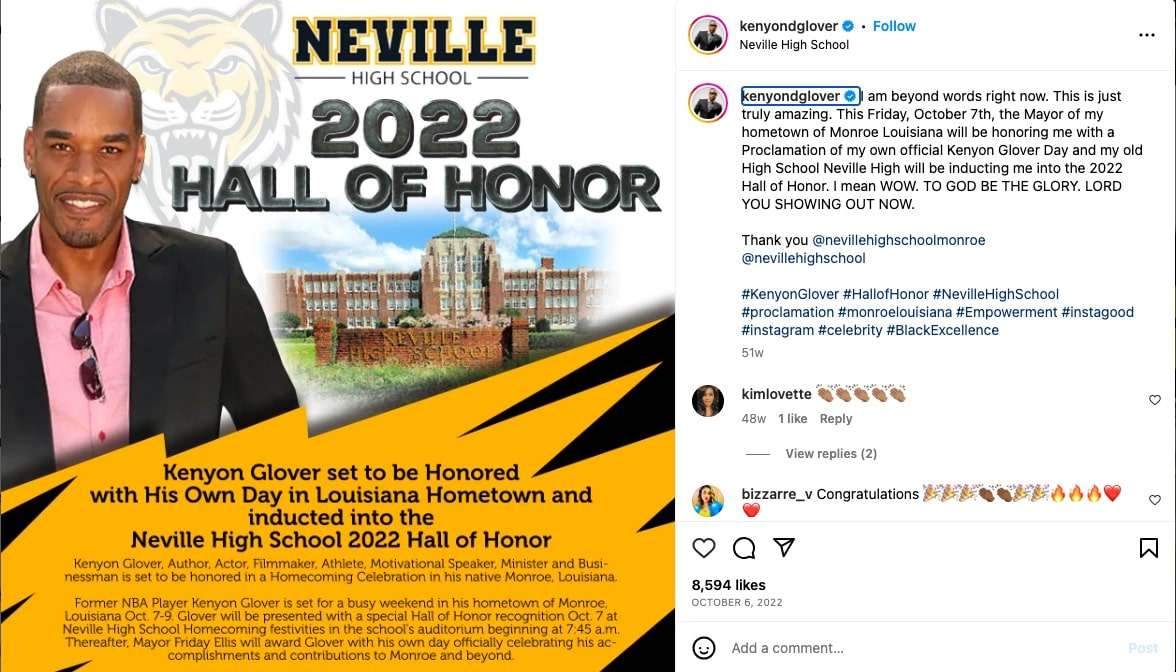 An inquiry on Facebook to the Neville Alumni and Friends Association for a character reference on Glover yielded communication from one of the organization's officers,  Jeffrey Laudenheimer. A Senior Vice President at Progressive Bank in Monroe, Louisiana, according to Linkedin, Laudenheimer stated "We don't have anything like that, a Hall of Fame."
The inquiry concluded that Kenyon Glover was never inducted into the Hall of Honor. 
The VP conferred with NAFA Executive Director Dana Tucker Jefferson who through communications corroborated Laudenheimer's revelation that "Kenyon Glover was not inducted into any Hall of Honor at Neville."
The investigation uncovered a hidden deception by Glover after Neville High School officials confirmed this week the new information in line with what NAFA disclosed. 
The investigation did not find any supporting documentation for Glover's nonexistent businesses that he promotes online. What little is known of the alleged companies are cloaked in melodrama, the investigation determined. 
It was found that, as of late, Glover has been busy promoting his role in the scripted drama E40S (Every 40 Seconds). The film's official Facebook page demonstrated that this was indeed true.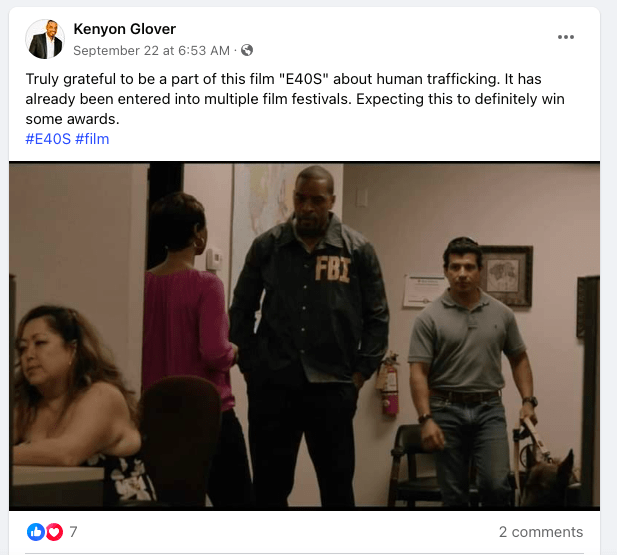 It is ironic as this discovery found Glover, an alleged predator and assaulter, playing the role of an FBI agent in a film about human trafficking. The investigation showed that in a strategic approach, Glover was proud to promote himself in the film. The actor shared a promotion on his social media stating, "Expecting this to definitely win some awards." 
Just six days ago, Kim announced that the E40S film had won several international accolades from Rome's 8 & Halfilm Awards.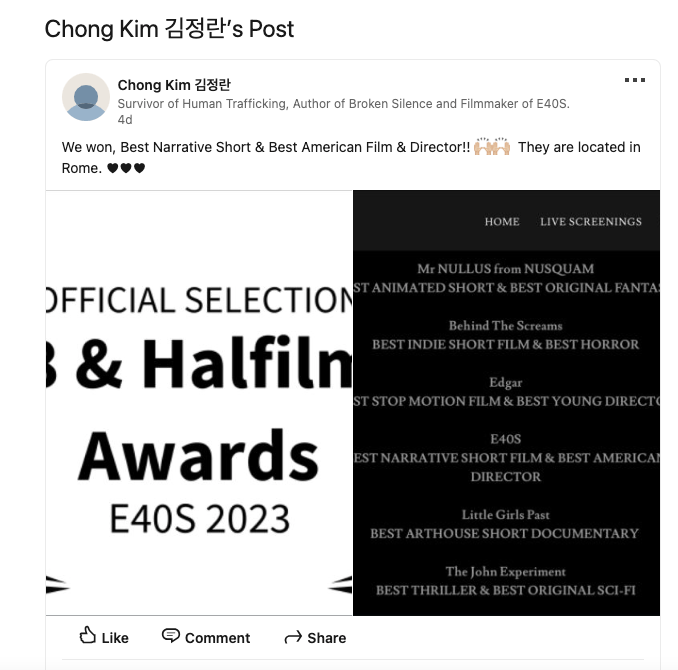 The investigation confirmed IMDb qualifier's 8 & HalFilm Awards is an international event open to all kinds of films and is organized by a team of professionals who have shot movies with some of the most famous personalities in the history of cinema awarded with an Oscar, a Palme d'Or at the Cannes Film Festival, at the Bafta, at the Berlin Film Festival and also with a Nobel Prize.
The awards are given in honor of those projects who have exhibited outstanding quality while working in the film industry. E40S claimed 2023's top awards for Best Narrative Short and Best American Film. Kim was conferred with the Best American Director award.
Kim, the creative mind behind the E40S film, is a renowned global advocate for human and civil rights. The Korean-American overcomer of child abuse is also a survivor of adult human trafficking and exploitation.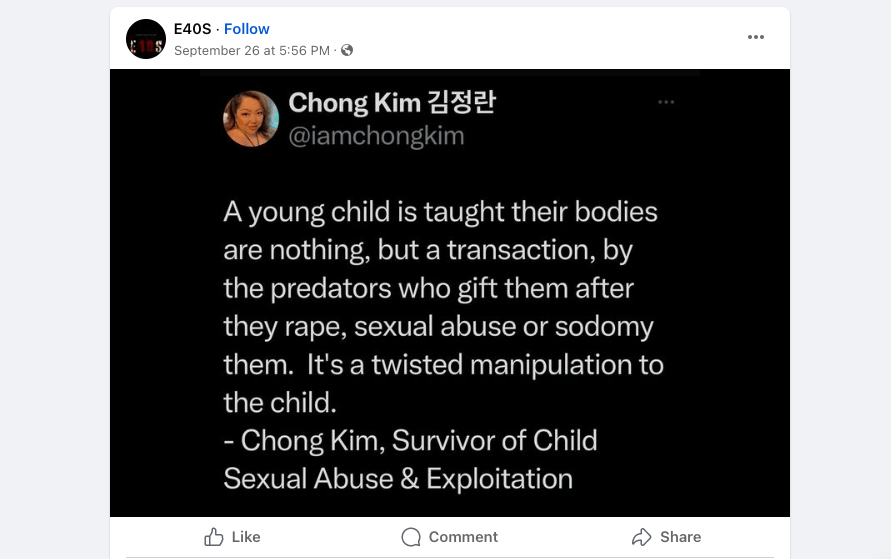 The investigation established that Kim has been advocating against trafficking throughout the world for more than 15 years. The power broker promotes her company as a woman-owned, asian-owned, disabled-owned, and LGBTQ+ owned business. 
Found during the investigation, Kim sits on the Advisory Board for Radical Empathy Education Foundation, which creates bridges for victims of human trafficking. Kim, as a global advanced advocate, works alongside those who are striving to end slavery and injustice. The investigation concluded that Kim's influence is grounded in her approach to strategically reference important messages in her films coupled with an advanced technology hub worldwide.
It was found that Kim's previous film 'Eden' is based on her real-life story that depicts sex trafficking in the United States, the New York Times reports. Her biopic has been shown throughout Asia, United States, Europe and the UK. The film remains a New York Times Critics Pick, the investigation confirmed.
The investigation found that Kim has been featured as an expert on CNN UK. Since her reach is so wide, enabling her access to the UK's extensive network and growing, we wanted to know what Kim's position was on the predatory allegations surrounding her cast member – Kenyon Glover.
The London Journal reached out to the prominent director and celebrated filmmaker this week to request a comment about Glover's collaboration with her latest project. E40S, the investigation found, is a scripted series inspired by Kim's advocacy.
Kim, also the creative producer of "Every 40 Seconds," upon review of Glover at the centre of a media storm, issued the following statement to the London Journal regarding his connection to the film. 
"He has been removed and is no longer associated with E40S."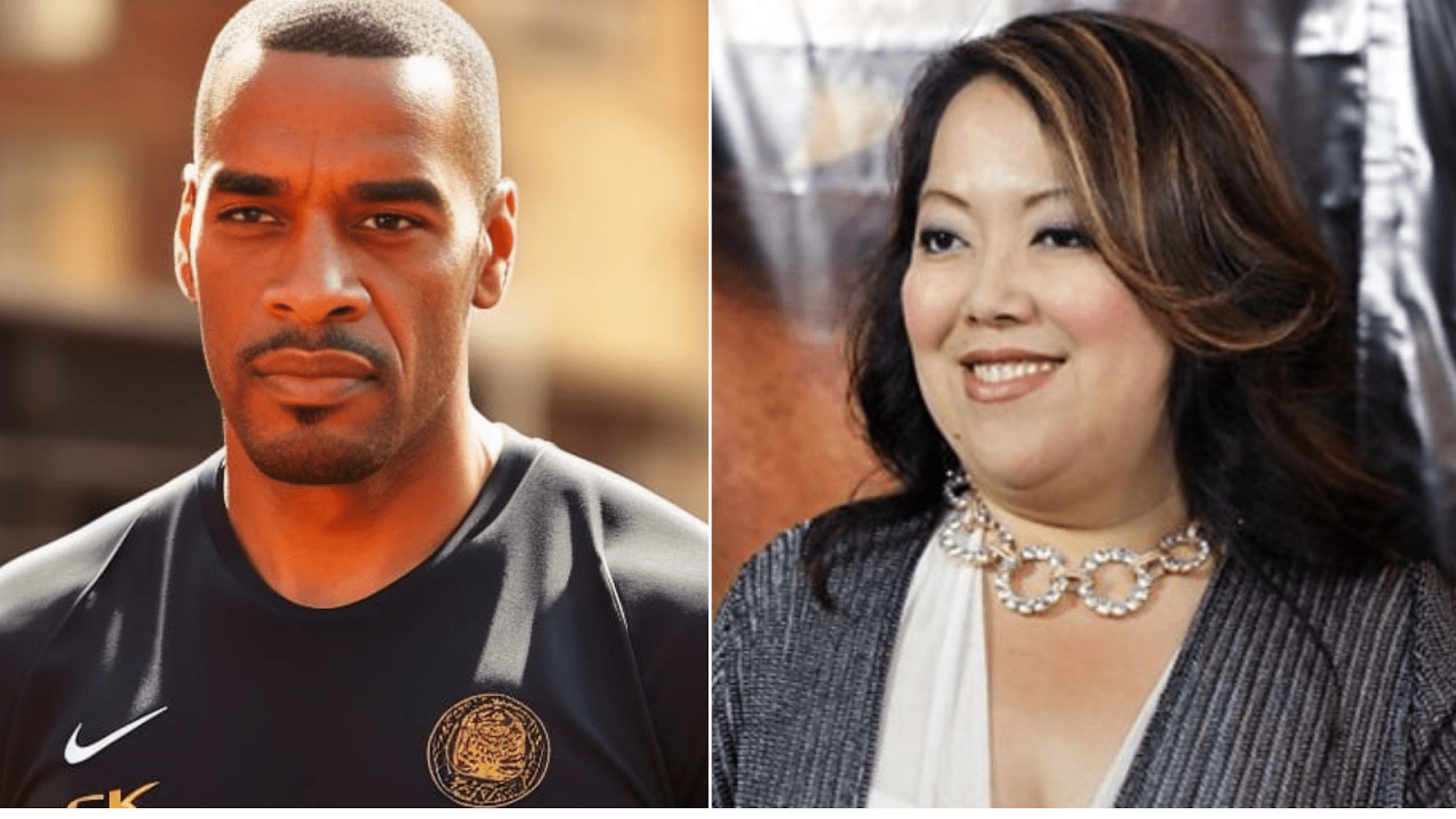 Kenyon Glover, Chong Kim. PHOTO: KENYONDGLOVER/FACEBOOK;BEN HORTON, GETTY IMAGES
SUMMARY
A new London Journal investigation has uncovered the fact that sexual assault allegations are rarely false. The Journal analyzed videos, spoke to witnesses and consulted experts, confirming that conversations surrounding sexual assault is still a taboo subject for a huge part of society.
In the realm of sports and entertainment, athletes and celebrities often command significant influence and adulation from their fans. However, this adoration should never be an excuse for misconduct or criminal behavior.
The scope of the investigation found that, in recent times, the world has witnessed a growing movement to hold individuals in positions of power accountable for their actions, especially when it comes to sexual assault allegations.
The investigation shows Glover is vulnerable to serious legal matters, exposing behavior that has not allowed him to escape his past. The investigation revealed countless secrets hidden in Glover's alleged business and online persona, as supported by the evidence in the report.
The fact that Glover, himself, has not publicly addressed the claims is concerning. The granting of a sexual assault protection order against Glover is a significant milestone in the pursuit of justice for the survivor. It serves as a reminder that allegations of sexual misconduct should be treated with the utmost seriousness and that the legal system will work diligently to ensure that justice is served.
While Glover's legal battles may continue, the judge's decision on a ruling against him in two different court cases represents a triumph for survivors and a beacon of hope for those who have been victimized by individuals in positions of power.
It sets a precedent for holding those accused of assaultive behavior, including domestic violence, and sexual abuse, accountable and emphasizes the importance of due process and a fair legal system. It underscores the principle that no one is above the law, and that justice will prevail, no matter how long the journey may be.
Neither Glover nor his victims walk away unscathed. All survivors involved face serious injuries, victims with emotional trauma and Glover with the media and legal fallout.
The unveiling of the domestic violence arrest and charge, his two active restraining orders including one order of protection for sexual assault in Louisiana, the California judge's ruling againist him for assault, along with the exposure of dishonest internet tactics has put Glover under a spotlight that he most certainly did not want to be in.
Lights, Camera, Action! This begins a new take.  
______________________________________________________________________
England and Wales
Some areas have Sexual Assault Referral Centres (SARCs) – use the NHS Choices tool to find one in your area. They can offer you medical support and collect evidence that can be used later.
You can also contact a support organization:
None of these organizations will make you report the assault to the police unless you want to.
Scotland
Contact support organizations if you're in Scotland.